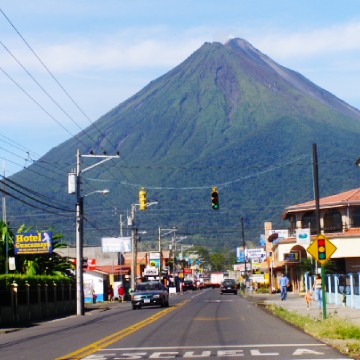 La Fortuna downtown
La Fortuna town has been blessed with several natural wonders like rivers, lakes, forests, waterfalls, and mountains. The Arenal Volcano is definitely the icon of the area. With an altitude of 1633 meters above sea level, this stratovolcano (built in layers) stands out due to its almost perfect conical shape, visible from many kilometers around it.

Arenal Volcano is more than a tourist attraction, it is the engine that starts a beautiful town. Thanks to Arenal Volcano, La Fortuna has been found on the map, becoming the main development pile that helped La Fortuna to become the tourist destination that it is today. Thanks also to the natural marvels found around such rivers, mountains, lakes, hot springs, caves, canyons, trails, forests, waterfalls, its people and much more.
Volcano History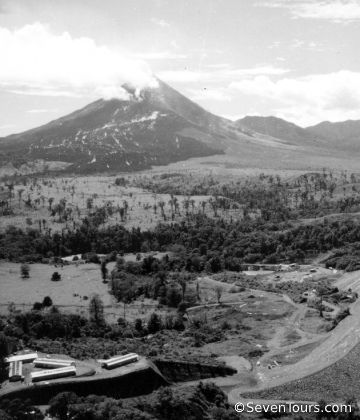 Arenal Volcano 1968 history
The volcano started its last period of activity in 1968, with a sudden and violent eruption of lava, rocks, and gases, destroying the towns of Tabacon, San Luis, and Pueblo Nuevo, located very close to its base and unfortunately killing more than 87 people in that event. This eruption from 1968, reached up to 15 kilometers around the mountain, reaching all closest towns at the west side of the hill. These eruptions continued for several days destroying all the scenes around by spoiling and burying crops and covering everything under layers of lava and ash.

Locals who still live in La Fortuna town today tell the story of columns of ash and smog with kilometers of height above the sky, painting a dark scenario and covering their houses and properties and giant lava rocks falling like bombs and burning everything. Until 1968, the closest inhabitants of the area thought that Arenal Volcano was a hill and not a volcano.

The actual volcano had several names before that date, according to the locals the most remembered name was "Pan de Azucar" hill or "Arenal" hill. However, some people were already suspecting of its activity, due to seismic activity, some of the closest rivers turn into a hot water river, and some gases escaping from springs around the mountain. These gases got to kill some cattle in one of the farms according to the local narrative.

Scientists are studying this colossus to evaluate its activity, as its last lava flow occurred in 2010, but there are still traces of its possible activeness, with seismic activity and some expulsions of ash, less frequent with the days. According to official studies, the Arenal Volcano has been aged around 7000 years, being the youngest volcano in Costa Rica, and in conjunction with the closest hill named Chato, today has become and make-up one of Costa Rica's National Parks.

The Arenal Volcano area is an important watershed for the Arenal Lake Reservoir, which is man-made and finished in 1979. The reservoir's water is used to produce between 12 and 15% of the hydroelectric power of the country.
Present importance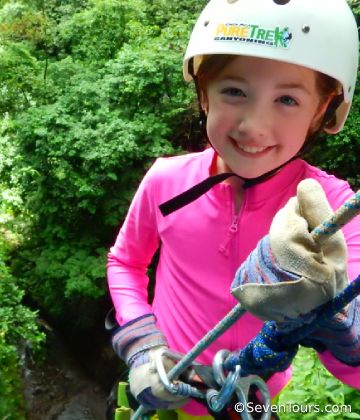 Canyoning tour
Nowadays the Arenal Volcano is one of the most visited national parks around Costa Rica. Yet despite the volcano not producing lava anymore, many visitors around the world come to know the story around it.

One important fact is that the Volcano has been one of the strongest development piles that helped La Fortuna Town for decades to become one of the most touristic destinations in Costa Rica. People used to come to see the strings of red lava flowing down from its crater, but today they come to spend some relaxing time and the hot springs or enjoy one of the more than 30 activities in town; for example, tourists can enjoy tours of hiking, rafting, kayaking, rappelling, wildlife watching, horseback riding, windsurfing, floating, tubing, zip-lining, birdwatching, even spelunking.
Today La Fortuna area and Arenal Volcano are a must in your vacation plans. This valley is surrounded by beautiful lakes, rivers, hot springs, lush and green; and beautiful and peaceful landscapes that will revitalize you.
Interesting Facts about Arenal Volcano
| | |
| --- | --- |
| Height: | 1.633 meters / 5357 feet |
| Age: | 7000 years old |
| Arenal Volcano area: | 33 km2 / 8155 acres |
| National Park size: | 121 km2 / 30.000 acres |
| | |
| --- | --- |
| National Park trails: | 4.6 kilometers of trails |
| Distance to La Fortuna: | 9 km / 5.6 miles |
| Mountain type: | Stratovolcano |
| Last eruption: | 1968 to 2010 |
Arenal Volcano Tour Video
What is the best way of visiting the Volcano?
Arenal Volcano is an icon of the area, nowadays is totally safe and easy to visit this marvelous colossus. The best way of knowing Arenal Volcanos is taking a visit to the National Park. Well-kept trails and lookouts are available, normally the park is open from 8 am to 4 pm every day and there are basic services such as bathrooms, information, and a parking lot. National Park is located 15 minutes away from La Fortuna Town, taking road 142 from La Fortuna to Nuevo Arenal.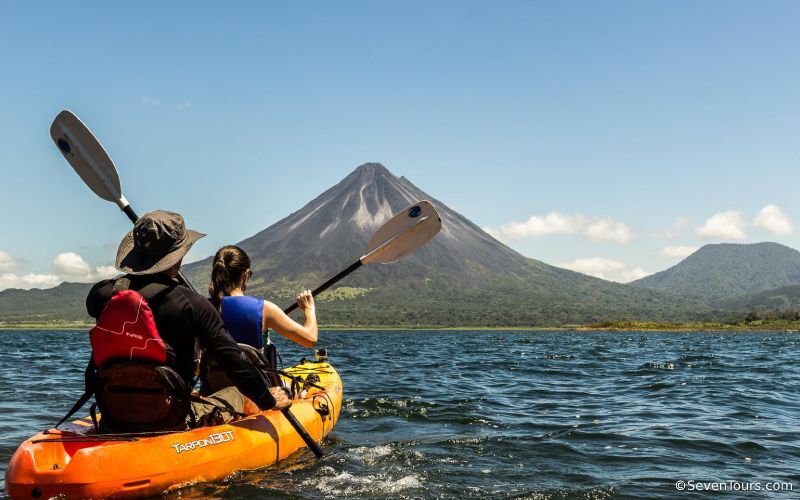 Kayaking in the Arenal Volcano
About the National Park
The Arenal Volcano National Park (PNVA) was created on September 30, 1991, by Executive Decree No. 20791-MIRENEM.

This area is of great importance for the conservation of the local water regime, thus ensuring the constant supply of water to the Arenal reservoir and nearby human settlements. It also considers scenic beauty and volcanic activity, which are important tourist attractions for regional development, economic activity, and contribution to the national electrification system.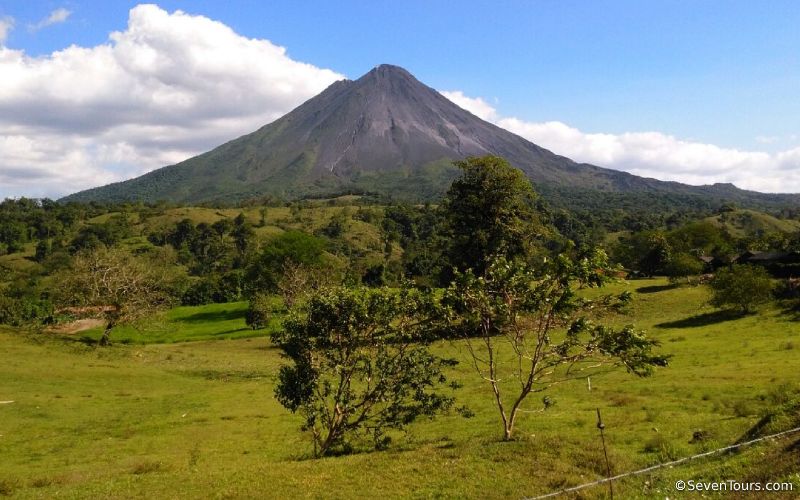 Arenal Volcano National Park
How to get to the Volcano
1 - Can I go by myself?
You can visit Arenal Volcano by yourself, by many ways. It is easy to get to La Fortuna or Arenal Volcano. The most common way is by taking a tour (Seven Tours offers tours every day, twice a day). Tour operators take the visitors to the National Park or the Private Park aside called Lava 1968 Trails (as you walk on the cold lava from 1968 which was the year of the first explosion). They usually perform a very interesting and educative hike, where the clients are introduced to the history and important facts about the volcano and its influence on the local economy of La Fortuna Town.

Driving: If you are driving, you can easily get to The National Park using Waze or Google Maps. Also, directions to get there is taking road 142 from any place in La Fortuna, continue straight towards to Arenal Dam, before reaching Arenal Dam there is a detour to El Castillo Town, take the left and drive for 2 more kilometers and you will see Lava 1968 Trails and The Arenal Volcano National Park titles.

By Taxi: From La Fortuna, a Taxi can charge around $20-$25, or a UBER car (please have in mind that UBER or DIDI are not legal yet in Costa Rica).

By Bus: Buses are living 4 times a day from La Fortuna to Tilarán Town. This bus can take you close to the National Park, but not exactly there. The bus drops you off at the main road, on the El Castillo Town detour, once there you must walk for about 1.8 km or a bit more than a mile.
-> Bus Schedule from La Fortuna to Main Road detour: 07:45 am / 09:15 am / 05:10 pm / 06:45 pm
-> Bus Schedule from the Main Road Detour to La Fortuna: 08:00 am / 10:15 am / 01:15 pm / 03:15 pm
2 - Guided tours (recommended)
Into the National Park, you get some information and a pamphlet with a map. But the visit with a guide is more enjoyable and usable. The local guides carry lots of information, history, knowledge about flora and fauna, and above all important skills to spot wildlife around. It is highly recommended to hire a guide or take a guided tour.

Normally, there are tour guides in the park entrance available to be hired and perform the hike with you. Guide's fees go around $25-$35, depending on the qty of people and time of the day. Seven Tours offers you great deals on Arenal Volcano guided tours.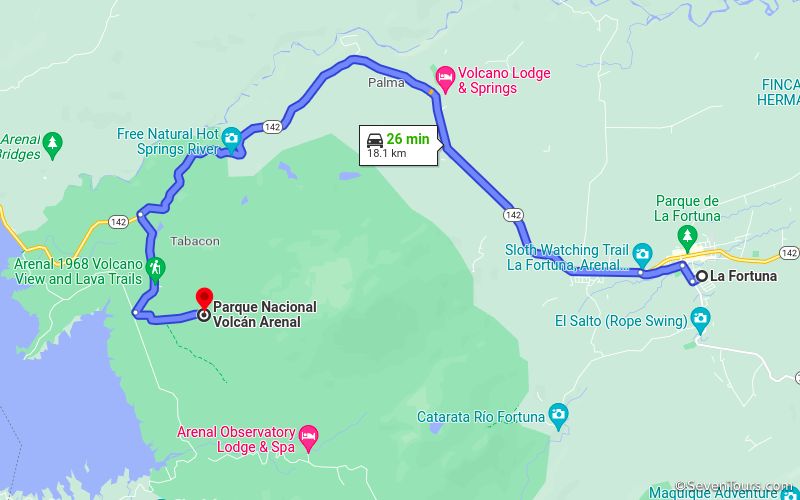 From La Fortuna to Arenal Volcano
-> Open map
How are the trails?
The National Park Volcan Arenal counts with 5 different trails to enjoy and a lookout:

Heliconias Trail: Covered with vegetation, it measures 610 meters, is flat and narrow, and from there you can see the crater.

Coladas Trail: It is a flat 1.7 km route from where you can see the volcanic cone, Lake Arenal, and the Tilarán mountain range.

El Ceibo Trail: It is relatively flat and is 2.3 km long. Here you can see the great "Ceiba Pentandra" or giant Kapok tree.

Viewpoint: It is 1.5 km from the entrance control house and from there you can see the Arenal volcano.

Peninsula Trail: It has a distance of 1.5km. It is located in the Peninsula sector, near the main house of the Park Rangers. The main attraction of this trail is to be able to appreciate incredible views of Lake Arenal and the characteristic fauna and flora of the lake's shores.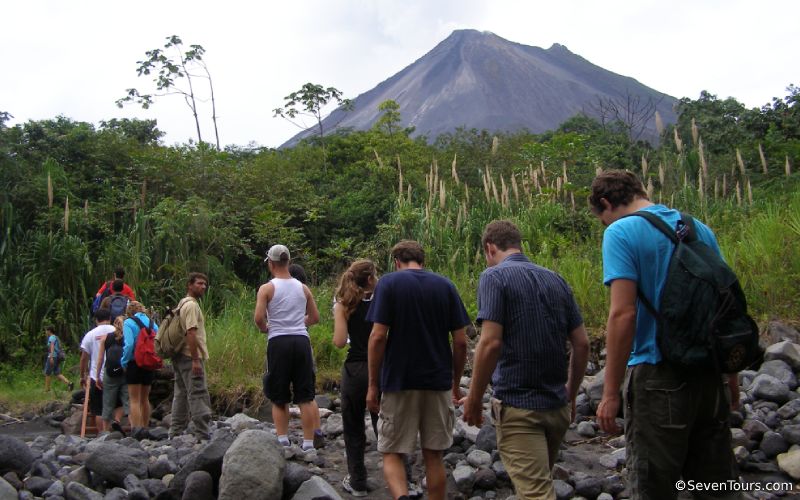 Volcano trails
Hot Springs and more activities around the Arenal Volcano
You can combine the visit and walk to the Arenal volcano with other very interesting activities and in this way make the most of your time in the area. Regularly the visitors combine the hike to Arenal Volcano with a visit to the local famous Hot Springs, also they combine the hike with a visit to the Arenal Hanging Bridges, The Waterfall, and also a boat ride on Arenal Lake. You can find all these tours with Seven Tours, there are different packages that make most of your budget and time.

Main thermal waters near the Arenal Volcano:
- Baldi Hot Springs
- Ecotermales Fortuna
- Tabacon Hot Springs
Share: